Safeguarding
Safeguarding
At Madani Schools Federation, the safeguarding of our children is the highest priority.
The list below shows the safeguarding team within school and you can also contact Leicester Safeguarding Children Partnership Board by visiting https://www.lcitylscb.org/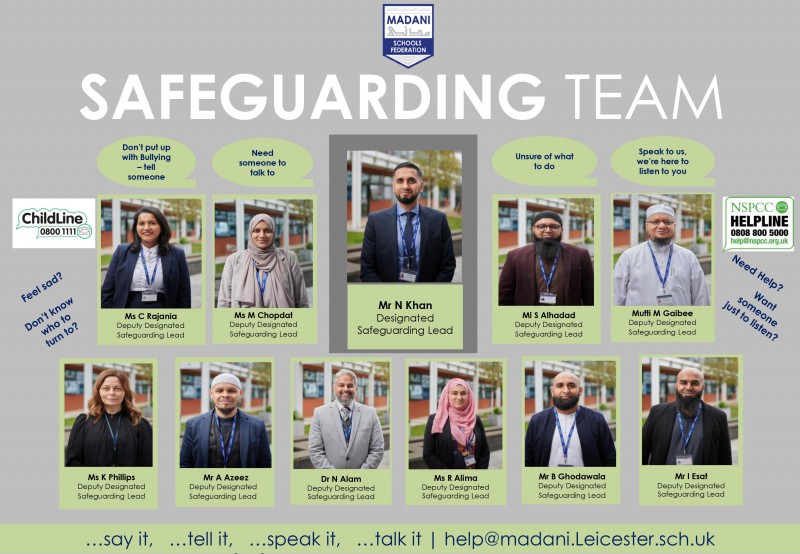 All staff, employed at Madani Schools federation, undertake accredited Safeguarding Training annually and refresher training midway through the academic year. As per statutory procedure, all employees also complete Prevent Training every two years. In addition to this, as part of their CPD, all staff complete other relevant training, relating to safeguarding and child protection, at regular intervals throughout the year. The table below outlines the main safeguarding certifications held by our Safeguarding Team. Our DSL team are also trained in Safer Recruitment.
Purpose of our Safeguarding Policy
Madani Schools Federation's safeguarding policy provides clear direction to all school stakeholders about expected practice in dealing with safeguarding issues. It makes explicit the school's commitment to the development of good practice and effective procedures, ensuring that safeguarding concerns and referrals are handled sensitively, professionally and in a way that supports and protects the needs of the child.
There are three main aims to our Child Protection Policy:
Prevention: by creating a positive school atmosphere and providing high quality teaching and pastoral support to pupils;
Protection: by following agreed procedures and ensuring staff are appropriately recruited, trained and supported to respond appropriately and sensitively to Child Protection concerns;
Support: by providing support for pupils and school staff and for children who may have been or are being abused.
All those working in education can contribute to the safeguarding and protection of the welfare of a child in need.
According to the DfE, safeguarding and promoting the welfare of children is defined as:
Protecting children from maltreatment;
Preventing impairment of children's health or development;
Ensuring children are growing up in circumstances consistent with the provision of safe and effective care; and
Taking action to enable all children to have the best outcomes.
Child protection is a part of safeguarding and promoting welfare. It refers to the activity that is undertaken to protect specific children who are suffering, or are likely to suffer, significant harm.
Safeguarding and promoting the welfare of children is everyone's responsibility at Madani Schools Federation.
Everyone who comes into contact with children and their families and carers has a role to play in safeguarding children. In order to fulfil this responsibility effectively, all professionals should make sure their approach is child centred. This means that they should consider, at all times, what is in the best interests of the child.
This policy applies to all who come into contact with children at Madani Schools Federation including:
Teachers
Teaching assistants
Administrative assistants
Supply teachers
Students
Lunch supervisors
Visitors/volunteers
Adult helpers
Governors
Trustees
If in doubt, anyone with concerns should seek advice from the Designated Safeguarding Lead (DSL)
Early Help
Madani Schools Federation forms part of the Early Help process
What is an Early Help
Early Help is the support provided for children, young people and their families to respond when difficulties emerge or to stop problems developing in the future. This support can be provided at any point in a child's life to stop small problems getting bigger.
Early help support is a partnership approach. All agencies that work with children, young people and families are responsible for listening to your concerns and worries. They will work closely with families to make sure that get the right support is accessed at the right time.
It involves listening to you and your child to find out your child's needs, and what is working well in your child's life. An action plan, agreed with you and your child, is also put in place to make sure your child gets the right sort of help. The Early Help Assessment is voluntary – you and your child can choose to be involved.
How will Early Help support my family?
Early Help exists to help you support your child. It can lead to a quick solution or help to identify extra support if needed. Early Help will ensure that everyone involved with your child – such as teachers and health visitors – works together to support your child. Early Help will help your child receive the right support at an early stage before their needs increase which can be much more difficult to help you with. As Early Help Assessment is a shared assessment, you and your child should not have to repeat the same story to different workers.
When is The Early Help Assessment used?
The Early Help Assessment can be used if you or someone who works with your child would like your child to receive extra support. It will help to identify your child's additional needs, and other workers required to support your family.
Confidentiality
As a rule the information which you and your child provide will only be shared with your family's consent. However there may be certain times when the people working with you need to share information.
For example:
When they need to find out urgently if a child is at risk of harm;
To help a child who is at risk of harm;
When an adult is at risk of harm; or
To help prevent or detect a serious crime.
The documents below are those required by the DfE to be published on the website.
December 2023
| M | T | W | T | F | WE |
| --- | --- | --- | --- | --- | --- |
| | | | | 1 | 2 |
| 4 | 5 | 6 | 7 | 8 | 9 |
| 11 | 12 | 13 | 14 | 15 | 16 |
| 18 | 19 | 20 | 21 | 22 | 23 |
| 25 | 26 | 27 | 28 | 29 | 30 |