Year 6 Transition
Year 6 Transition
Transferring from Primary to secondary school can sometimes be stressful and daunting. At Madani Girls School we aim to make this process as smooth as possible so that your child will find this process as exciting and stress free as possible.
During the Spring term, staff from Madani Girls School will visit students in their primary school. Staff will be able to talk to year 6 pupils about the transition process and answer any questions that may arise about the transition process and starting secondary school.
On Tuesday 4th July & Wednesday 5th of July of year 6, your child will attend Madani Girls School for two days to experience school life, meet their new form tutor and fellow tutees.
We would be pleased to hear from any parent of a year 6 child who may have some questions or concerns about the process by emailing queries to Transition@madani.leicester.sch.uk
Transition FAQs
Please click here to view Year 6 Transition FAQs
Transition Video
Year 6 | Prospective Transition Arrangements | Madani Boys/Girls School | 2023-24 Entry
Dear Parent/Carer and Future Madani Student,
It is with great pleasure that I write to you about our Madani Transition arrangements as we welcome you to our learning community. You are joining one of the most oversubscribed and best performing schools in the city in both academic and pastoral measures.
The transition from primary to secondary school is a landmark moment in your life - the move to a new school, with new teachers, staff, routines, surroundings and friends is an exciting time. However, feedback from young people and parents/ carers nationally informs us that transition can also be challenging, involve a period of adaptation and for some a degree of anxiety.
Our aim is to work together to ensure that your child is ready to start their five-year journey in August and enjoy a worry-free summer holiday, happy and confident to return as a Madani student.
1) Transition Videos
You will get the chance to a tour of Madani and meet our Head Teacher. Watch the clips to find out more about your new School.
2) Transition Booklet – you should receive this Week Beginning Monday 5th June 2023. Please click here download the Transition Booklet 2023
Make sure you watch the Transition video to help you complete this! This will introduce you to life at Madani, to your new school 'House'– and our Values - what does HEART actually mean? Don't forget you will need to complete this before your 'Tutor group MS Teams meeting' on Monday 19th / Tuesday 20th June 2023.
3) Head of House Parent Drop In – Parents can book in to a MS Teams video call with any of our Heads of House. MS Teams video calls will be available between 12th June 2023 – 16th June 2023 from 4.00pm-4:30pm.
We want to hear from you (Parents/Carers) and have created the opportunity for you to share any information about your child or ask any questions you may have. This will also give you the opportunity to share the exciting things your child is looking forward to when joining Madani. Don't forget to ask any questions or discuss any worries you may have.
MS Teams video will not need booking in advance. You can simply drop into sessions between 4pm - 4:30pm. The letter with links will be attached for your information.
4) Form Group Virtual MS Teams meeting - you will receive an MS Teams meeting invite for 4:00pm on Monday 20th/Tuesday 21st June 2023 – you can join by computer, tablet or phone!
This is so exciting – you will get the chance to meet your whole Tutor group in one go 'virtually' on MS Teams prior to your Transition visit! You will receive a letter on 5th June 2023 explaining how to join. Remember to have your completed Transition Booklet as much as possible. If you are stuck with some of the information that's also a great time to ask us for the answers.
5) Year 6 Transition Visits
Madani Boys & Girls School | 4th July 2023 | 8.45am – 2.30pm Madani Induction Day
Madani Boys & Girls School | 5th July2023 | 8.30am – 2.30pm Madani Transition & Nurture Day
You will have the opportunity to meet some members of your new Tutor Group and key staff including your Head of House at school and current students too! Key speakers will be giving presentations on Day 1. The main meeting will take place in the in the School Sports Hall where there will be several stands with information and opportunities to ask questions.
Day 2 will be full of fun and engaging transition activities for your child to attend to help them settle. Please ensure your child brings suitable trainers on both days. We can't wait to see you, if you can attend!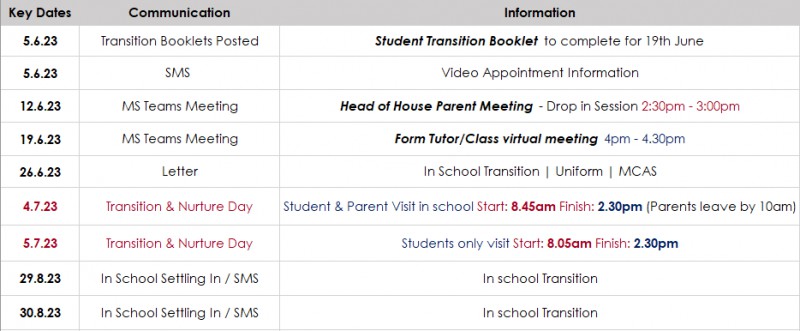 For further information on your child's Year 6 Transition to Madani Boys/Girls School, please contact our Transition Team on:
t: 0116 249 8080
e: transition@madani.leicester.sch.uk
Please note this plan is subject to change and HE is the best of planners – we will of course inform you of any changes.Thank you for your continued support during this time. On behalf of everyone at Madani; make du'a for us and each other, may the coming days ahead be full of joy, peace and happiness for you, for your families and for humanity, God willing.
Yours sincerely
Ehsan Choudhury
Transition Co-Ordinator
Madani Boys School | Madani Girls School
Further information and support can be obtained from: www.bbc.com/startingsecondaryschool
December 2023
| M | T | W | T | F | WE |
| --- | --- | --- | --- | --- | --- |
| | | | | 1 | 2 |
| 4 | 5 | 6 | 7 | 8 | 9 |
| 11 | 12 | 13 | 14 | 15 | 16 |
| 18 | 19 | 20 | 21 | 22 | 23 |
| 25 | 26 | 27 | 28 | 29 | 30 |